Home Restoration After a Flood
2/3/2021 (Permalink)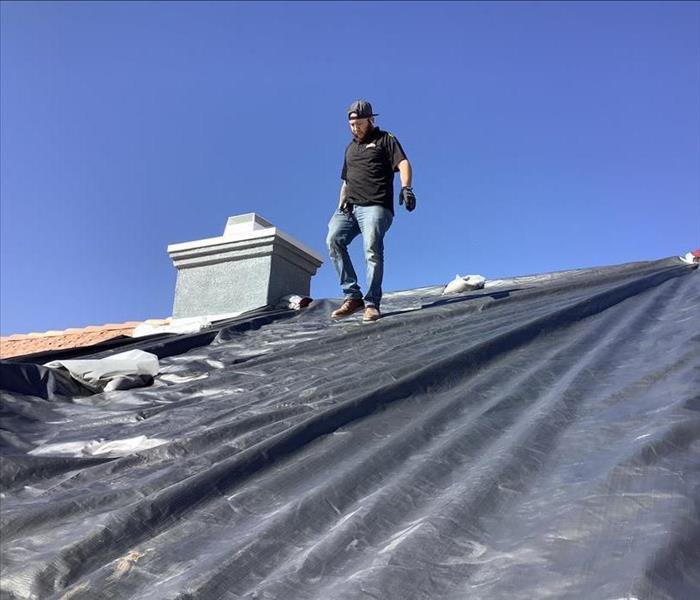 Storm damage is no easy task. Leave it to the professionals at SERVPRO. They have the IICRC certified technicians and all the latest equipment too.
What does restoration mean after flood damage in your El Centro Home?
El Centro is located in Southern California, about 600 miles south of San Francisco and 115 miles east of San Diego. It is about 50 miles west of Yuma, Arizona. Most notably, it is on Mexico's border, and only 15 minutes from the industrial complexes in Mexicali, Baja California. in Mexicali, you can find museums, shopping, and other sites of interest. El Centro is the county seat of Imperial County. There are two international border crossings in El Centro, making commerce and travel simple between the United States and Mexico, fostering a positive economic relationship between the two countries.
One of the first Europeans to the area was Melchor Diaz, who explored the area in 1540. Then Juan Bautista de Anza once again found the site in 1776. The area was partially under Mexican control following the American Mexican War. It wasn't settled into a city until the early 1900s. When, in 1906, W.F. Holt and C.A. Barker purchased land for only forty dollars an acre and put $100,000 into the area, transforming a barley field into a city right away, becoming the City of El Centro on April 16, 1908.
The city's population quickly grew from 1,610 by 1910 to 11,000 by the 1940s. One of the reasons it multiplied is that it became the county seat despite a battle with the City of Imperial, who also wanted the role. It was the second biggest city in the region and a major agricultural supplier for the area. Not only were there farms, fruit and vegetable packing and shipping also thrived along with ice plants and box factories.
Places to visit in El Centro:
Visiting the Imperial Valley Mall, opened in 2005, to enjoy a premier shopping experience.
Bucklin Park, a city park with a trail for walking or running and spacious picnic areas for the family.
Algodones Dunes, the largest Dune field in the United States. Perfect for off-road driving of ATVs and four-wheel-drive trucks.
El Centro Naval Air Facility to view the annual Blue Angels flight display event.
Home Restoration Following an Emergency
After a flood, a word you continue to hear is restoration. When it comes to home repairs, you may wonder what the word restoration means. It means to return something to its former condition. After a flood, restoration can become an involved process with many steps. However, our team at SERVPRO works hard to make sure that your home is thoroughly restored.
Restoration includes the following:
Putting something back together, usually a home or business.
Replacing parts of the drywall or resetting the contents of the home.
Final cleaning and inspections.
Contents are put back into place.
Ensuring the home is put back to preloss condition.
For assistance with any home restoration project, contact SERVPRO of El Centro / Salton City anytime, 24/7, at (760) 337-5858. We're Faster To Any Size Disaster.