Fire In Your El Centro Home
3/15/2022 (Permalink)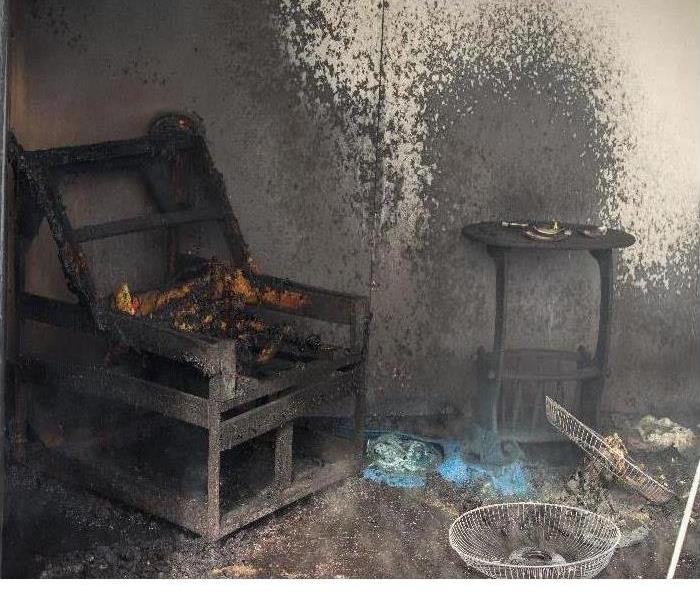 Every item that burns or is smoke damaged presents a cleaning, restoration, or replacement challenge.
Not All Fires in Your Home are the Same - Let SERVPRO Walk You Through It
We are all vulnerable to fire damage to our homes. In just the blink of an eye, an accident can happen if we are not cautious. A fire can be the result of a candle left unattended, or a barbecue grill placed too close to overhanging branches, and the consequences can leave you feeling dismayed. Once firefighters put out the flames, you need to figure out how exactly to restore the damage caused by the fire and by the extinguishing agents used to put it out.

Our SERVPRO team is certified to help you address fire damage to your home in El Centro effectively. Our IICRC-certified technicians prepare for these situations by studying and understanding the path each fire and smoke takes. Understanding the ignition process lets us draw our path to eliminating the smoke and soot the fire leaves in its wake. Knowing the difference between synthetic and natural burning materials helps us tailor an action plan suited to your specific needs.

Mitigating your loss is always at the core of what our SERVPRO crew does. This protection is why we apply cleaning solutions based on the surface we are cleaning, which helps avoid further damage. For example, when natural materials burn, such as wood, the residue is very fine and settles deep into porous surfaces like upholstery. If cleanup efforts include water, you run the risk of sinking the residue even further into the porous surface and causing further damage. Our team takes great care in identifying the surface and the type of residue as well as testing cleaning solutions before full application. This rigorous methodology prevents extended losses and the preservation of your belongings.

Fire and smoke damage can be disruptive, but you can control the extent of the damage with well-designed restoration techniques. Sometimes, when a fire happens, volunteers from the Red Cross will visit the fire scene to provide assistance to the occupants. To learn more about the Red Cross visit: 123HELP.
SERVPRO is here to help 24/7 when an emergency happens. Just call us at (760) 337-5858 and let our experts leave your home, "Like it never even happened."