Salton City Leads in the Salton Sea Coast
1/8/2021 (Permalink)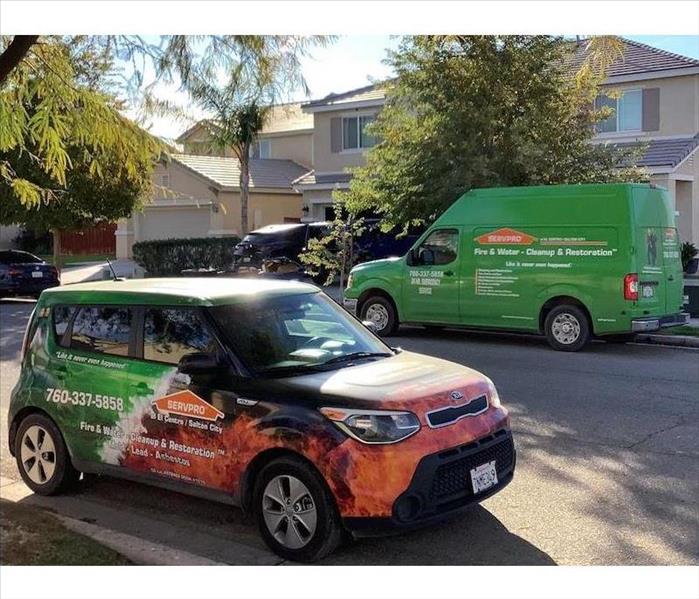 Property owners breathe a sigh of relief when the SERVPRO green fleet swiftly arrives for water loss mitigation.
Unique Attractions Surround Salton City and its Residents
Salton City, in Imperial County, is considered the most extensive development on the Salton Sea Coast. Not as famous as San Diego or Los Angeles, the Salton Sea is a shallow lake on the San Andreas Fault. Straddling Imperial Valley and Coachella Valley, the lake is below sea level and occupies the Salton Sink. Rainfall causes the Salton Sea size to vary, but it is estimated to be close to 350 square miles, and it is the largest lake in California. Due to its saline nature, living species such as fish and vegetation have a hard time surviving. However, some tilapia, catfish, and bass have been known to survive. In contrast, the avian population is quite diverse.
The Salton Sea area invested resources to become a resort area, and Salton City was central to this redevelopment. Desert Shores, Bombay Beach, and Desert Shores were also targeted for development. However, the lake's pollution and increased salinity undercut the project's success, and many communities have since been abandoned. Most recently, the area has welcomed a newer crowd of artists with bohemian lifestyles.
If Salton City remains sparsely populated, it is not for lack of trying. In the 1960s, the Holly Corporation, a Texas-based oil company, attempted to develop the area as a resort community. M. Penn Phillips, Holly Corporation's leader, and entrepreneur put significant effort in growing Salton City, just as he developed Christmas Valley, Oregon, and Hesperia, California. By 1965, it became clear that Salton City lacked the accessibility and growth potential for full development. Almost simultaneously, the rising sea elevation caused shoreline structures to be abandoned. As pollution and salinity escalated, hopes of Salton City becoming a tourist destination decreased. It wasn't until the 2000s that the area's affordability encouraged new residents to move into the region.
Attractions Around Salton City
The area around Salton City has grown to offer some unique attractions to those looking for one-of-a-kind experiences. Very different from nearby Los Angeles and San Diego, some stops along your tourist route exist only in the Salton Sea area and invite you to bring your camera and artistic eye. Some places to include are listed below.
Salvation Mountain- Leonard Knight created Salvation Mountain as a tribute to God and a way of carrying his message. At 50 feet high and 150 feet wide, the mountain is made of local adobe clay. Paint for the monument has been donated, and it is vividly applied to each inch of Knight's work. Other objects also adorn Salvation Mountain, carrying the message "God is love" and depicting the scripture.
Slab City- also called "the Slabs," the area is often associated with living outside of civil society's established conventions. Slab City is a squatters community on what used to be the artillery training range for Camp Dunlap. The first settlers of the Slabs were veterans who had ties to the original base, but now RV owners tend to find their way to the area to settle for some time. Leonard Knight, the creator of Salvation Mountain, was also an early settler in the Slabs. Most inhabitants stay through the winter months and leave during the hot summer months, but a handful of people live in the area year-round.
The International Banana Museum- If Salvation Mountain and Slab City are not unconventional enough for you, dare to go bananas by visiting the International Banana Museum. The entity boasts over 25,000 banana-related pictures and objects. Reviewers find it a one-of-a-kind outing that will have you laughing as soon as you arrive. You can top your time at the Museum with a delicious banana milkshake or ice cream. Although current health concerns have limited its operating hours, make sure to include it in your itinerary around Salton City.
East Jesus- Within Slab City, you'll find East Jesus, which a habitable art exhibit with no religious ties, despite its name. Created by the late Charlie Russell, its goal is to showcase experimental art, including concerts, sculptures, and photography. The elements typically erode art installations, making the exhibits short-lived and in a constant state of change. You can tour the area to understand the works of art and explore the many contributing artists' work.
Painted Canyon Road- If you're just driving through the Salton Sea area, make sure to go through Painted Canyon Road near Mecca. It is a beautiful road that leads to hiking trails and offers gorgeous views. Pay close attention to the type of vehicle you need to access, as some sandy areas can be dangerous.
Caring for your Salton City Home
Caring for your home is an ongoing responsibility, and some elements in Salton City should make you even more vigilant. Humidity, changes in temperature, seismic activity, and water levels can all impact your home. Luckily, if a pipe bursts and leaks all over your floors and belongings, SERVPRO is ready as a leading water restoration company. Our team has the proper training and equipment to take care of your needs shortly after reaching us at our 24/7 hotline.
Restoring a home after a water incident centers around extraction and drying, but efforts can be detrimental if humidity levels are not monitored. Our SERVPRO team has all the necessary equipment to measure humidity for each surface and take appropriate action. From dehumidifiers to wand extractors to air circulators, we are ready to use all of them to complete the job and minimize your loss.
SERVPRO of El Centro/Salton City relies on our training and experience to service residents in our area.
When you call upon our staff at (760) 337-5858, you can be assured that we won't rest until we clean, dry, and sanitize your home according to recommended industry best practices. You can count on us until your home feels, "Like it never even happened."