El Centro Homeowners Rely on SERVPRO for Restoration Services to Their Properties
9/29/2019 (Permalink)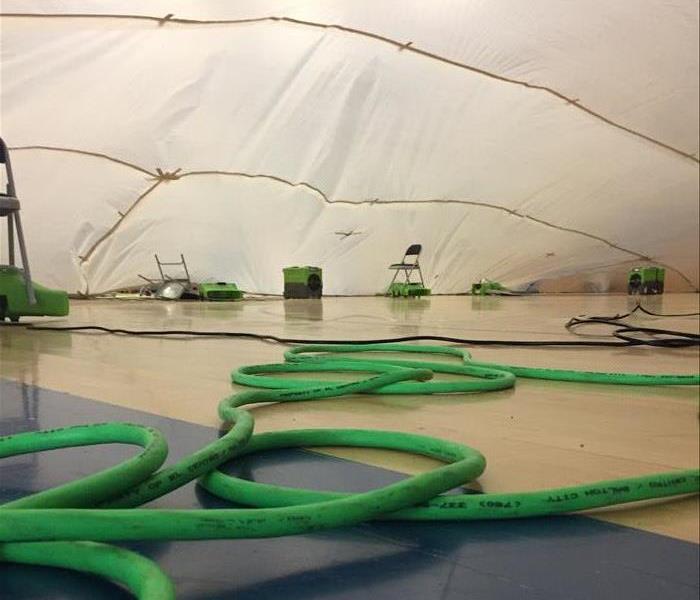 From Large Drying Tents to Water Spillage Moppings--Count on SERVPRO of El Centro / Salton City for Property Damage Restoration Solutions
Problem with Water, Fire, Mold, or a Storm in Your El Centro Area Home?
We have always remained dedicated to providing the residents and business owners within El Centro a higher caliber restoration experience than they expect when disasters strike. This commitment stems from the very highest tier of our company and is a focus of every field technician working in every niche of the recovery efforts we provide. Restoration services are not hard to find, but we want to provide an unparalleled experience. Along with the main avenues like water, fire, storm, and mold recovery, we also are licensed through the state of California to provide lead and asbestos removal.

Water
Water loss incidents are among the steadiest of all emergencies that occur, and this is partly due to the higher volume of sources that could lead to these damages. No matter how water damage in your El Centro home starts, we have the experience and training to help. Our SERVPRO professionals have accreditations through the Institute of Inspection, Cleaning and Restoration Certification (IICRC) in Water Restoration (WRT), Applied Structural Drying (ASD), and even secondary niches like Applied Microbial Remediation Technicians (AMRT.)

We know how valuable a fast response can be, especially when you are contending with standing water in your El Centro property. Because of this, we have made it a point to encourage nearly all of our staff to acquire their certifications in water restoration. This approach ensures that no matter when disasters strike, or how many of our technicians are already in the field, that there is someone available to help with the shared knowledge of even our most experienced team members.

Documentation of the drying process is critical, especially when working along with your home insurance provider. Our SERVPRO team utilizes our custom software, DryBook, to detail all of the process and stages of recovery so that the progress of your El Centro water recovery is easily accessible for all who need it.

Fire
While house and commercial structure fires remain a nearly constant threat to our team members, wildfires are among the most devastating natural disasters that our El Centro customers must endure. In recent years, multiple incidents have caused millions of dollars in damages, and our professionals have become involved in the recovery of hundreds of properties. We strive to provide every potential customer the same fast and confident response to these emergencies, and this is available as soon as the wildfire gets contained.

We have dedicated much of our training and education with our technicians to content recovery, soot removal, and deodorization. We can handle the effects of wildfires and traditional fires with a broad inventory of restoration equipment and cutting-edge devices. El Centro fire damage can mean all of these effects and more, and you need a team of professionals capable of working quickly to reduce the cost of restoration and the time before your home gets back to normal.

We have a 24/7 response line monitored continuously to ensure that every El Centro customer gets the same attentive and immediate response to their fire loss emergency regardless of when it occurs. It is vital to get mitigation, content management, and cleaning started as soon as firefighters deem the property safe enough to begin. No matter how severe fire losses can become, we have the inside and outside of your home covered.

Mold
Mold can quickly produce allergens and irritants that can circulate throughout an El Centro property. Addressing this harmful circumstance is often more complicated than many homeowners might initially believe, and that is what encourages our SERVPRO team to promote continued education and training for our remediation technicians. While the program through the IICRC for Applied Microbial Remediation certifies our professionals for the work, we aim to provide our customers and clients with the most knowledgeable technicians in the area.

In as little as 48 hours, spores can seat into materials and begin colonization throughout your El Centro home. Restoration services are only part of the equation here, as the elimination of this harmful organism must be the priority of our technicians. Remediation specialists of our team utilize multiple practices such as sanding, soda blasting, and antimicrobial spray to eliminate spores and to eradicate the entire hyphae of the organism to protect the hosting construction material if possible.

Not every situation demands the full measure of our remediation practices. Mold damage in El Centro homes and businesses can vary in severity, or not exist at all. Whenever you are in doubt about the presence of this organism and what can get done about it if it gets discovered, our qualified technicians have a fast response for honest inspections and assessments as well.

Storm
For natural disasters and severe weather, California can often feel like the epicenter. For residents of El Centro, many have to contend with both damaging weather events like the effects of Santa Ana Winds as well as flooding. Addressing these concerns is rarely something that homeowners can do on their own, and instead, it becomes most cost-effective and time-saving to secure the experience and skills of our SERVPRO team. With stocked trailers featuring the full measure of our advanced water restoration equipment, we can manage even widespread flooding scenarios quickly.

Extraction is among the most important tasks that our professionals can perform to begin mitigation for your flooded El Centro property. We have extractors of multiple sizes and strengths, allowing us to handle all loss incidents we encounter successfully. With our involvement with a Large Loss recovery team, we have resources on-demand as well to help with substantial destruction that exceed the limitations of our inventory and personnel. Depending on the severity of the situation, our technicians can utilize multiple extraction machines:

- Portable Submersible Pumps
- Vacuums with Extraction Wands
- Weighted Extraction Devices
- Trash Pumps
- Truck-Mounted Pumps

We know how fast flooding can get out of hand, so we respond immediately to storm damage affecting El Centro properties. We're Faster To Any Size Disaster.

We offer a unique and tailored experience that exceeds expectations. Think of our SERVPRO of El Centro / Salton City team whenever you might need restoration services. Whenever a mishap strikes, you can count on us 24/7. (760) 337-5858.
For information and data on your city click right here.