Professional Water Cleanup in Brawley
8/5/2018 (Permalink)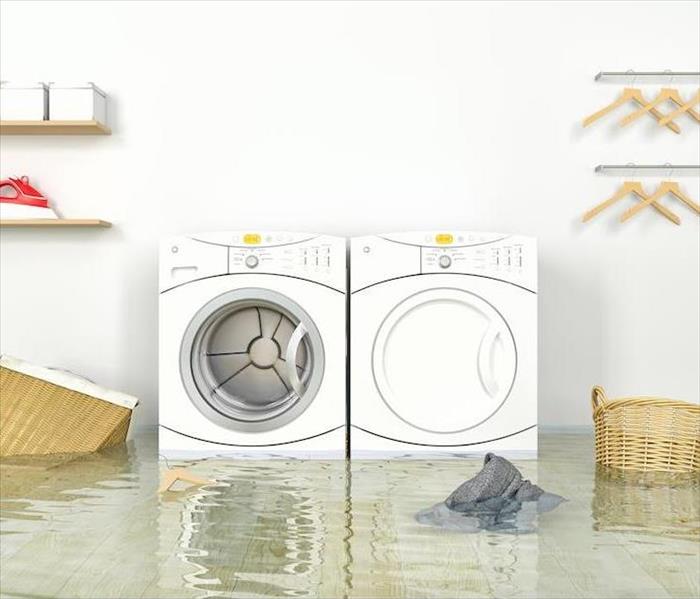 After flooding caused by your washing machine, it is best to call in the professional technicians at SERVPRO to remediate the damage.
SERVPRO Technicians are Ready to Help Dry Out a Water Damage Emergency Regardless of the Source
You do not realize how much you depend on the integrity of the plumbing and appliances in your Brawley home until you suffer from a significant leak or pipe breakage. The loosening of a wax seal on a toilet, break in a supply line to a kitchen or bathroom sink, or a broken washing machine pump or hose can spell disaster, especially if it happens when you are away from home at work or traveling. We are committed to delivering expert help to you fast.

Water cleanup in Brawley is not a do-it-yourself task when hundreds or even thousands of gallons escape from a burst pipe or malfunctioning appliance. A shop vac might be able to suck up an accidental spill, but when the water continues to pour through the plumbing or out of the appliance, it cannot accomplish the job. Our business exists in part to help members of our community recover from unexpected water catastrophes. Investments in high-efficiency equipment and well-trained technicians support our efforts to deliver these services.

When we arrive, expect us to locate and turn off the water supply immediately if you have not already done so. The SERVPRO crew chief then assesses the extent of the water incursion, determining which spaces in your home need water removal and structural drying. We often suggest a pack out of belongings in the water-saturated areas, inventorying and relocating these items to a dry area on your property or at our production facility for thorough review away from the water cleanup activity in your home.

SERVPRO service vehicles are packed with submersible pumps, water extractors, and a range of drying equipment so the project can proceed without delay. If the electricity is disconnected because of safety concerns, our trucks carry portable power generators so we can commence and complete water removal. Our employees ensure all cavities and recesses are scanned for trapped water as we work because any lingering moisture can cause progressive deterioration of building materials and expose your dwelling to the risk of mold growth.

After the majority of the water is eliminated, SERVPRO employees use their IICRC training in drying science to take moisture measurements to determine drying goals. Air movers, dehumidifiers, and heat team up to create the optimum environment for rapid evaporation of water from structural components and fixtures.

SERVPRO of El Centro / Salton City has the technicians and high-efficiency equipment to quickly and thoroughly clean up a water emergency at your home. Call our office 24/7 at (760) 337-5858 to set up an inspection and begin planning for water removal as soon as possible.

Click here for more about Brawley.